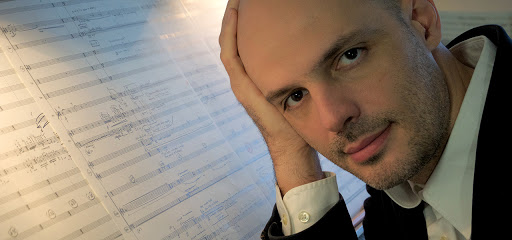 Awarded the Grawemayer Award in 2014 for his composition On the guarding of the heart, Djuro Zivkovic placed himself among the most important composers of his generation. With a special interest in the ancient Byzantine music and the Balkan folklore he has developed his compositional techniques based on polyrhythmic structures, improvisation and special harmony based scales including microtonality, layer-polyphony and heterophony.
Even though Djuro Zivkovic always had a strong affinity with the Scandinavian and Central European modernism and sound world – his prime inspiration and artistic incentive have always sprung from his Orthodox Christian faith and the Byzantine music he experienced in his childhood Serbia. Central passages on meditation, spiritual practice and the eternal light from the Eastern Orthodox Church's prominent collection of mystic texts – the Philokalia – have formed the starting point and often the main subject matter of most his major compositions including On the guarding of the heart, Ascetic Discourse, The White Angel and most recently The Mystical Sacrifice (for the Royal Concertgebouw Orchestra).
His works is regularly performed and commissioned worldwide by leading international institutions the New York Philharmonic, Chicago Symphony Orchestra, Royal Concertgebouw Orchestra, Klangforum Wien, ASKO|Schönberg Amsterdam, Ensemble Modern, Malmö Symphony Orchestra, Seattle Symphony, Alabama Symphony Orchestra, Tokyo Int. Ensemble and Netherlands Radio Choir as well as the festivals Warsaw Autumn, Sound of Stockholm, Zagreb Biennale, Musikprotokoll ORF and Nordic Music Days at the South Bank Centre, London. He collaborated with soloist and conductors including Anna Larsson, Emilio Pomarico, Christian Karlsen, Martyn Brabbins, Peter Eötvös, Shi-Yeon Sung, Brett Dean and Brad Lubman.
Apart from the 2014 Grawemayer Award, he received Serbian Mokranjac Award in 2012 for the work Ascetic Discourse, Christ Johnson Award for his Cello Concerto Unceasing Prayers and the Swedish Grammy Award 2010 for the piece Le Cimetière Marin. Based in Stockholm, Sweden since 2000, he taught at the Royal College of Music, Stockholm. His compositional techniques for harmonic organization and harmonic-field techniques was the topic of an academic research at the University of Music and Performing Arts in Graz in Austria.